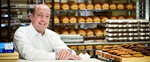 A Main Street Business
We are a "Main Street" business with an already established ecommerce customer base. We have plans to conduct a public offering of our stock in 2024.
Join our Owner's Club and become part of the new energy at Hemstrought's Bakery and Artisanal Premium Cheese as we remake our headquarters into an amazing food destination in Central New York.
With the expansion of the original property from a bakery to a culinary destination, the Utica store will become the blueprint for expanding into new stores in the regional hubs.
We will have the:
1st ever Cheese Aging Cave that is also a cheese store.

The bakery will have a Cookie & Milk Bar.

There will be a boutique wine shop called Artisanal Cellars.

A food artisan's cornucopia with big partners to expand online.
Your dividends will be delicious!
My family and I have become invested in Hemstrought's and Artisanal for many reasons. Personally, a passion for the food business goes deep. My dad ran a corner grocery store that his dad began in the 1920's. It's kismet how the path we took to expand into bread led us to relocate the Artisanal business to a small town in Central New York within walking distance of my family's old store.
First of its Kind
In a similar vein to Starbucks, which recognized the need to begin with a small cluster of cozy coffee shops to introduce a European coffee culture, we envision a comparable approach. Our vision involves the establishment of a unique concept in the USA—an unprecedented cheese store that is also a cheese cave. This concept, the first of its kind in the country, will not only offer an extensive selection of cheese but will also serve as a delightful space for cheese enthusiasts to savor and explore our offerings. Our dedicated and passionate staff will play a pivotal role in sharing their expertise and ensuring an exceptional experience.
Our expansion plan is ambitious but well-considered. We intend to open additional locations across the USA, with a strategic focus on the western and southern regions. This geographical expansion aims to reduce online shipping costs and make our unique offerings, like our famous Halfmoon Cookies, more accessible. As we continue to grow, we anticipate enthusiastic responses from communities eager to have a local presence of our establishment.
We think our new format will enable Artisanal Premium Cheese to become the leading lifestyle brand in a $4 billion category. Small artisan cheese makers, importers, food distributors and supermarkets that all make up the $4 billion category are not positioned to build a single umbrella brand over a wide range of cheeses from around the world. 
Become an Owner
We think we have a chance to do something incredible with the business. A real American success story built on vision and hard-work. We hope you become part of the Artisanal Owner's Club and share in our journey ahead.
Visit the Artisanal Mainvest Profile
https://mainvest.com/b/artisanal-cheese-utica
Mainvest supports local small business ecosystems by allowing the community to invest directly in Main Street.